Dunham introduces Sweet Daddy Dee in
Arguing with Myself
as his "new manager". He calls himself a "pimp",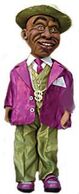 which he says stands for "
P
layer
I
n the
M
anagement
P
rofession." According to Sweet Daddy, because he is a pimp, that makes Jeff the "
ho
". When Dunham objects, Daddy Dee points out that Dunham makes people laugh and feel good for a living. When Dunham agrees that this is the case, Daddy Dee says, "You a ho." When Dunham asks what he would say if he told him that he was a comedian only because he enjoyed it, Daddy Dee responds, "You a
dumb
ho."
Despite being Jeff's manager, Sweet Daddy makes rare appearances. He initally looks like a pimp, but then changes to an appearance with no hat, kept the gold chains, and wore a sweat jacket with sweats and white sneakers.
Ad blocker interference detected!
Wikia is a free-to-use site that makes money from advertising. We have a modified experience for viewers using ad blockers

Wikia is not accessible if you've made further modifications. Remove the custom ad blocker rule(s) and the page will load as expected.